RUDDERSAFE DOBBELT-ROR for utenbordsmotorer
Problemer med at båten "jager"?

RUDDERSAFE optimaliserer båtens retningsstabilitet i lave hastigheter på en effektiv måte.
Ved større hastigheter løftes roret over vannflaten, slik at en unngår overstyring og redusert fart.

Ruddersafe kommer i flere modeller: inn til 21´ - 28´ og over 28´.
Egne modeller for Volvo Penta 280/290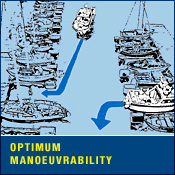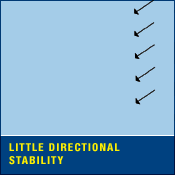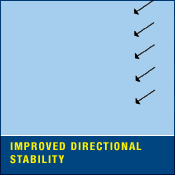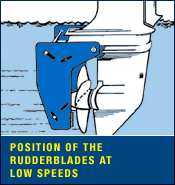 The rudder for stern-drive and outboard-powered boats.
Optimum manoeuvrability and greatly improved directional stability at low speeds.

Greatly improved steering at low speeds
At last there is a definitive, effective solution to the well-known problem of poor manoeuvrability at low speeds that affects most outboard-powered and stern-drive boats.
<![if !vml]><![endif]>

The dual rudder blades behind the propeller provide additional steering capacity, which results in optimum manoeuvrability, even with the engine switched off, both ahead or astern.

In addition to surprisingly good steering, above all in marinas, locks, narrow waterways and during manoeuvres to get into and out of berths, Ruddersafe's greatly improved directional stability also helps to reduce fuel consumption.

<![if !vml]><![endif]>

| | |
| --- | --- |
| | With Ruddersafe you do not need to make constant directional adjustments at low speeds, which makes cruising more pleasant and relaxed. |

<![if !vml]><![endif]>

At high speeds the pressure on the two trim planes lifts the two rudderblades out of the water, thus avoiding oversteer and loss of speed.
An automatic spring mechanism returns the dual rudder to its original position as soon as the speed and water pressure have reduced.
<![if !vml]><![endif]>

| | |
| --- | --- |
| | A further advantage of Ruddersafe is the protection it provides when going astern. This prevents propeller damage and reduces to a minimum the risk of bathers coming into contact with the propeller. |

<![if !vml]><![endif]>

| | |
| --- | --- |
| | The dual rudder can be attached to the engine cavitation plate without the need for any special tools or for the drilling of holes. |

<![if !vml]><![endif]>

| | |
| --- | --- |
| | Ruddersafe's corrosion-resistant, rustproof materials require only minimal maintenance. Lubrication of the tilting mechanism during normal engine maintenance is adequate to ensure many years of problem-free sailing. |
<![if !vml]><![endif]>

Type no.2

for boats up to approx. 21'
(approx. 6,50 m) long

Type no.3

for boats up to approx. 28'
(approx. 8,50 m) long

Type no.4

for boats approx. 28'
(approx. 8,50 m) long or longer

<![if !vml]><![endif]>

Type no.2

for boats up to approx. 28'
(approx. 8,50 m) long

Type no.3

for boats up to approx. 39'
(approx.12,00 m) long

Type no.4

for boats approx. 39'
(approx. 12,00 m) long or longer
Hentet fra the Viking Ovners Club
Outboard Rudder Attachments
Following a discussion on our forum regarding directional stability with outboards, we decided to publish this gallery entry for anyone thinking about 'rudder attachments'. There are a number of commercial products available, (some no longer produced),
The most sophisticated commercial product available is the Dutch made 'Ruddersafe' which is suitable for both displacement boats and high speed planing boats. This clever design allows the twin blades to automatically lift up out of the propellor slipstream when the boat is travelling fast, as otherwise they could turn the boat too sharply.
At displacement speeds, most outboard boats have rather 'vague' steering, requiring constant minor steering corrections. The addition of a rudder blade behind the prop makes things much more precise, often transforming the handling. Also, when fitted, they give the boat steerage way even with the power 'off' while still moving, unlike most bare outboard legs.
The Ruddersafe is available in three sizes (according to the size of boat), and is supplied as a complete set of parts which can be fitted to any make of outboard motor without needing to drill any holes.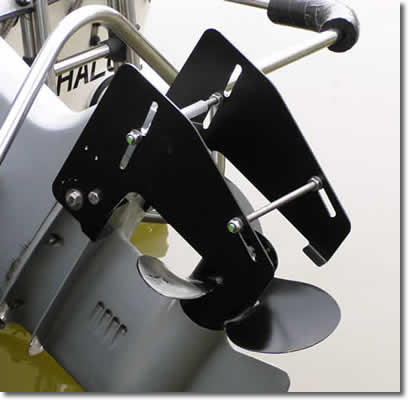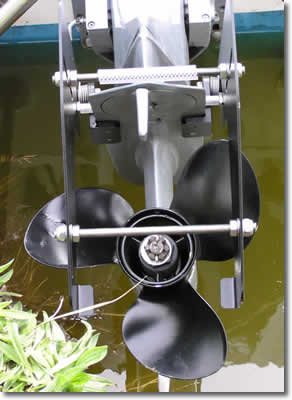 Forums / General Forum / Ruddersafe
(message threads are listed in date order, with the most recent replies at the bottom)
---
Adrian (Guest User)
on 06/01/2009
at 14:23

Paul Douglas
on 04/01/2009
at 07:57 Hi Clive,
Yes, it was a "Ruddersafe", which I found transformed the handling of the boat.

Just read your post about this ruddersafe on the handrails thread and wanted to know a little more about them. Do they affect the speed or response of the steering while planing? Are they hard to fit and where do you get them?



---
Paul Douglas
on 06/01/2009
at 19:12

Hi Adrian,

No, there's no problems with them when planing. They're cleverly designed to automatically pivot up out of the slipstream of the prop so as to not cause drag when planing above a certain speed, so I noticed no difference at all when doing 20mph plus, the handling was exactly the same as with the bare leg.

If it didn't lift out of the way at anything above displacment speeds, the enhanced steering ability would make the handling dangerous, making the boat too responsive, and allowing it too turn too quickly.

It was easy to fit as long as the boat was either on a trailer or backed up to a slipway, as there's lots of nuts and bolts that you can easily drop in the water ! No need to drill any holes in the outboard at all.

Everyone that I've talked into buying one has been happy with the result, transforming the handling of their boat at displacement speeds,(famous last words...)
Les mer i forumet